NEWS & EVENTS
2020
JANUARY - Happy New Year!!
First Gathering Commences

FEBRUARY
28th Spiritual Church Service
MARCH
27th Spiritual Church Service
APRIL
24th Spiritual Church (Anzac Service)
MAY
22nd Spiritual Church Service
JUNE
26th Spiritual Church Service
JULY
24th Spiritual Church Service
AUGUST
28th Spiritual Church Service
SEPTEMBER
25th Spiritual Church Service
OCTOBER
23rd Spiritual Church Service
NOVEMBER
27th Spiritual Church Service
DECEMBER
18th Christmas Service (third Friday of the Month)
MERRY CHRISTMAS!!!!!
NEWS
On the 7th October, 2017 Christina was ordained as an fully ordained Minister of White Owl Spiritual Centre and therefore is a member of ACSCOA.
You impressed our Nominating Authority so much that your ordination came earlier due to your committment and dedication to White Owl over many years of giving self and service.
Congratulations Christina you have earnt this and your character and gentleness in working with spirit and walking your talk are truly inspirational.
Christina does private readings and can be contacted on: 0412 624 535 a true light worker. Let her help you connect to loved ones and help you on your journey through this life.
White Owl also offers the following:-
Marriages (Religous Marriage Celebrant), Christening and Funeral Services are available (tailored to your needs and wishes)
Are you looking to develop your abilities further?
Our sponsor Crystal Stargate provides a range of spiritual and creative workshops catering to the needs of those who wish to unlock and understand their own abilities. Part of the policy of Crystal Stargate is to offer a structured approach to learning and therefore some workshops are pre-requisite for others. Through the understanding of ones self it is possible to achieve your full potential and move through the obstacles of life.
"So where are you at in your life right now?"
"Do you know yourself?"
Checkout the workshop section of Crystal Stargate for info.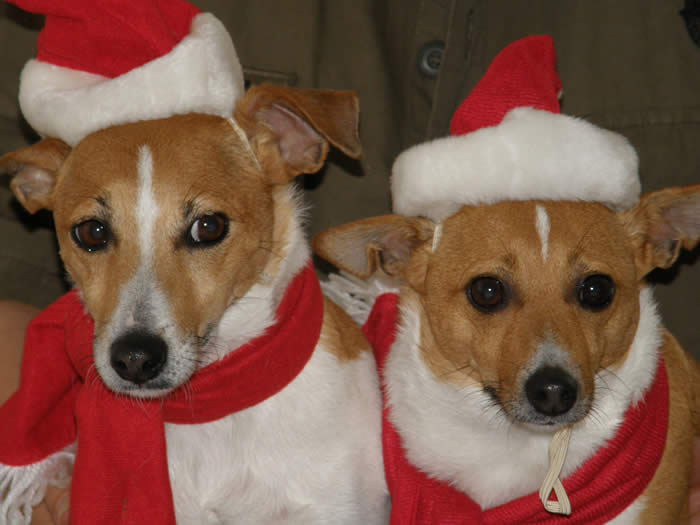 Michelle (RIP) and Scottie enjoying Christmas
The White Owl Team
To all our volunteers Thank You, you are greatly appreciated!
"Come and join in with the fun at Panania with our Spiritual Service with a difference!"